Joey Nemet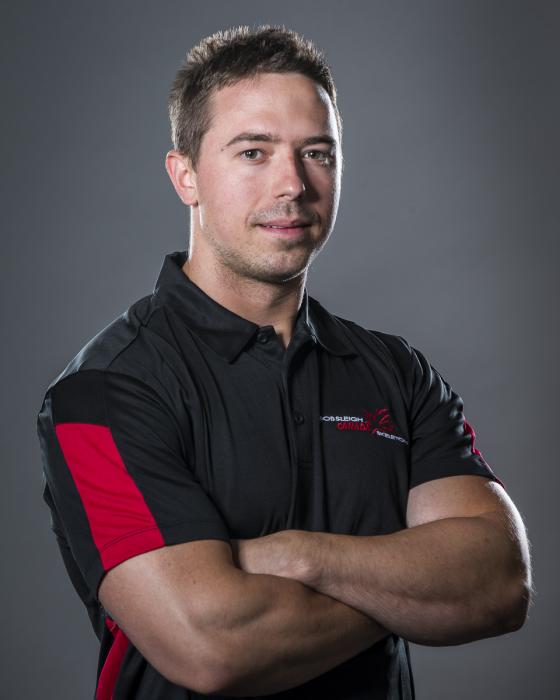 | | |
| --- | --- |
| Sport: | Bobsleigh |
| Height: | 180cm |
| Weight: | 98kg |
| Birth Date: | Dec. 6, 1988 (age 30) |
| Birth Place: | Mississauga, Ont. |
| Residence: | Hamilton |
Joey Nemet is back on Canada's World Cup squad after missing much of the last two seasons due to injury. He was first introduced to the bobsleigh world as one of the crew who made history pushing Kaillie Humphries in her first ever four-man bobsleigh race.
A standout running back for the McMaster Marauders, Joey has a lot in common with Jesse Lumsden. The two bobsleigh teammates are also one-two in the Mac record book for career rushing yardage. Lumsden is the runaway leader with Joey sitting second.
The connection is also what likely led Nemet to a bobsleigh recruitment camp that was staged at McMaster University. He quickly captured the recruiters attention and has developed his way through the Canadian program. He first competed on the World Cup Team in 2014-15.
When not on the track, Joey enjoys listening to music and playing guitar.
Career Highlights
2015 – North American Cup, Whistler, CAN: 1 (2-man)
2015 – World Championships, Winterberg, GER: 27 (4-man)
2015 – World Cup, Konigssee, GER: 12 (4-man)
2015 – World Cup, Altenberg, GER: 7 (4-man)
2014 – World Cup, Calgary, CAN: 15 (4-man)
2014 – North American Cup, Calgary, CAN: 2 (4-man)
2012 – North American Cup, Calgary, CAN: 3 (4-man)
World Championship Results
2015 – World Championships, Winterberg, GER: 27 (4-man)
World Cup Results
2017 - World Cup, St. Moritz, SUI: 16 (4-man)
2015 – World Cup, Igls, AUT: 20 (4-man)
2015 – World Cup, La Plagne, FRA: 20 (4-man)
2015 – World Cup, St. Moritz, SUI: 21 (4-man)
2015 – World Cup, Konigssee, GER: 12 (4-man)
2015 – World Cup, Altenberg, GER: 7 (4-man)
2014 – World Cup, Calgary, CAN: 15 (4-man)