Seyi Smith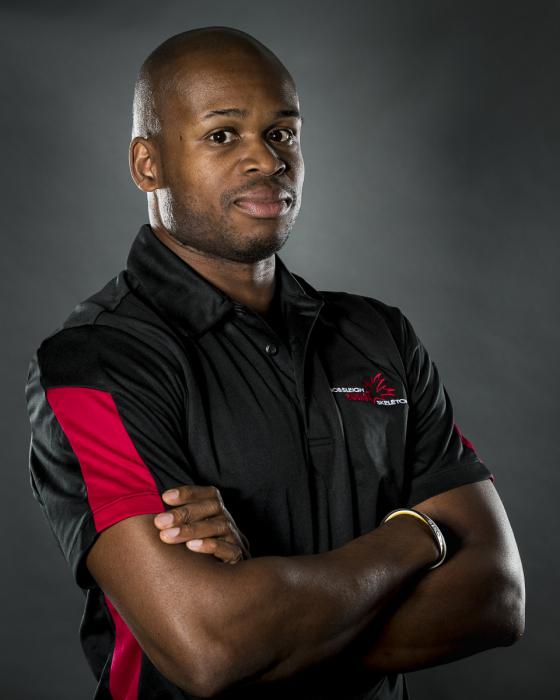 | | |
| --- | --- |
| Sport: | Bobsleigh |
| Height: | 190cm |
| Weight: | 95kg |
| Birth Date: | Feb. 20, 1987 (age 32) |
| Birth Place: | Nigeria/Nigéria |
| Residence: | Ottawa |
| Twitter: | @Seyi_Smith |
A multi-sport athlete, Seyi Smith joins the Canadian Bobsleigh Team from the world of athletics.
Oluseyi or Seyi (nicknamed Shay) Smith's first Olympic experience was at London 2012. He was part of Canada's 4x100m relay team that finished in the bronze medal position behind Jamaica and the United States, only to be later disqualified for a lane violation.
Prior to London, Smith had competed for Canada in athletics since the age of 16. Whether it be at the World Youth Championships, Pan American Junior Championships, World Junior Championships, World University Games, Commonwealth Games or multiple World Championships, Smith has many years of experience competing in the 100m, 200m, long jump and 4x100m relay.
In 2017 Smith decided to make the switch from summer to winter sport and has been training with Canada's bobsleigh team in preparation for the 2017-18 World Cup circuit with the overall aim of competing at PyeongChang 2018.
Getting into Sport: Was competitive in various sports growing up… Played soccer until age 16 with the Ottawa Internationals club and also played in the UK's top volleyball league for one year with his university team… His athletics journey began with a suggestion from a home room teacher in grade 5 to join the Ottawa Lions Track and Field Club and became a full-time obsession by age 18…. As of 2017 is still the current 100m British University Sports record holder dating back to 2009… Outside Interests: Received a Bachelor of Engineering and Master of Science in Renewable Energy Technologies from Loughborough University in the United Kingdom. Enjoys travel, movies, international politics, podcasts and recreational volleyball… Works as an electrical engineer with Altalink in Calgary and is aiming to earn his professional engineer (PEng) designation in the fall of 2018…Committee member of the Canadian Prairies Group of Charted Engineers and also holds an ex officio position on Athletics Canada's athlete council…
Career Highlights
2018 - World Cup, Altenberg, GER: 4 (4-man)
2017 - World Cup, Igls, AUT: 2 (4-man)
2017 - World Cup, Winterberg, GER: 4 (4-man)
2017 - World Cup, Whistler, CAN: 4 (4-man)
2017 - World Cup, Park City, USA: 3 (4-man)
2012 – Olympic Summer Games/Jeux olympiques d'été, London, UK: DSQ (4x100m relay/relais 4x100m)
World Cup Results
2018 - World Cup, Altenberg, GER: 4 (4-man)
2017 - World Cup, Igls, AUT: 2 (4-man)
2017 - World Cup, Winterberg, GER: 4 (4-man)
2017 - World Cup, Whistler, CAN: 4 (4-man)
2017 - World Cup, Park City, USA: 3 (4-man)