Tim Randall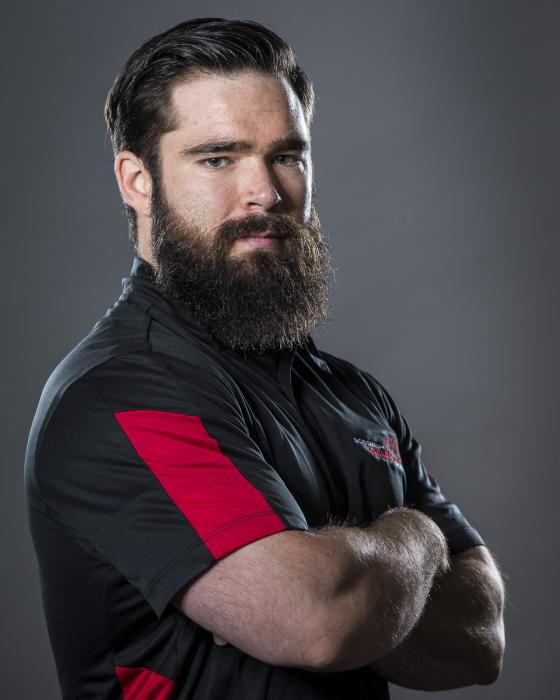 | | |
| --- | --- |
| Sport: | Bobsleigh |
| Position: | Brakeman |
| Height: | 178cm |
| Weight: | 105kg |
| Birth Date: | Jun. 19, 1986 (age 32) |
| Birth Place: | Burlington, Ont. |
| Residence: | Burlington, Ont. |
Canada's triple-medal performance in bobsleigh at the 2010 Olympic Winter Games was all Tim needed to see to know the sport was perfect for this talented athlete from Ontario. Following the Games, Tim wasted no time researching how to get involved, and he learned of a talent I.D. camp being held in Toronto. The rest is history.
Competing in his sixth full season in bobsleigh, Tim is anxious to begin another Olympic cycle after making his Games debut in Sochi 2014 while pushing Chris Spring to a 13th-place finish in the four-man event.
Tim was part of a Chris Spring's medal-winning squad that won the bronze medal in the four-man World Cup race in Whistler, and the Canadian bronze-medal winning squad at the 2013 World Team Championships.
Tim grew up playing hockey, basketball and football. He attended the University of Guelph where he played five years of CIAU football for the Gryphons. Holding a degree in Bachelor of Arts degree specializing in sociology and criminal justice, Tim plans to embark on a career as a firefighter when his bobsleigh days are done.
Tim enjoys listening to music, watching movies and hanging out with friends. He spends his offseason at the cottage wakeboarding and fishing. Tim also enjoys snowboarding and pond hockey.
Career Highlights
2014 – Olympic Winter Games, Sochi, RUS: 13 (4-man)
2014 – World Cup, Lake Placid, USA: 4 (4-man)
2015 – World Cup, Igls, AUT: 4 (4-man)
2015 – World Cup, Sochi, RUS: 4 (4-man)
2012 – World Cup, Whistler, CAN: 3 (4-man)
Olympic Winter Games Results
2014 – Olympic Winter Games, Sochi, RUS: 13 (4-man)
World Championship Results
2015 – World Championships, Winterberg, GER: 13 (4-man)
2013 – World Championships, St. Moritz, SUI: 21 (4-man)
2011 – World Championships, Konigssee, GER: 19 (2-man)
2011 – Junior World Championships, Park City, USA: 5 (4-man)
World Cup Results
2017 – World Cup, St. Moritz, SUI: 6 (4-man)
2016 – World Cup, Konigssee, GER: 10 (4-man)
2014 – World Cup, Lake Placid, USA: 4 (4-man)
2015 – World Cup, La Plagne, FRA: 13 (4-man)
2015 – World Cup, Igls, AUT: 4 (4-man)
2015 – World Cup, Sochi, RUS: 4 (4-man)
2013 – World Cup, Calgary, CAN: 9 (4-man)
2013 – World Cup, Park City, USA: 9 (4-man)
2013 – World Cup, Lake Placid, USA: 8 (2-man), 9 (4-man)
2014 – World Cup, Winterberg, GER: 11 (4-man), 8 (4-man)
2014 – World Cup, St. Moritz, SUI: 12
2014 – World Cup, Igls, AUT: 12
2014 – World Cup, Konigssee, GER: 11
2012 – World Cup, Lake Placid, USA: 10 (4-man)
2012 – World Cup, Park City, USA: 8 (4-man)
2012 – World Cup, Whistler, CAN: 3 (4-man)
2011 – World Cup, Igls, AUT: 10 (4-man)
2011 – World Cup, La Plagne, FRA: 9 (4-man)
2011 – World Cup, Winterberg, GER: 10 (4-man)
2012 – World CUp, Calgary, CAN: 9 (4-man)