Lascelles Brown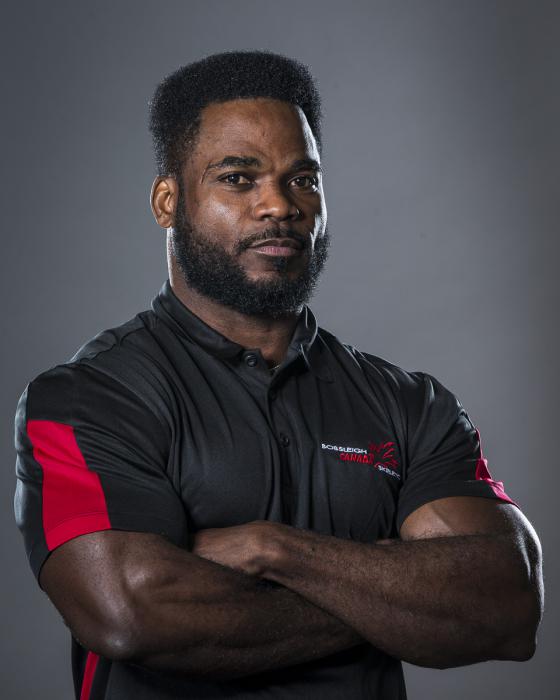 | | |
| --- | --- |
| Sport: | Bobsleigh |
| Position: | Brakeman |
| Height: | 183cm |
| Weight: | 97kg |
| Birth Date: | Oct. 12, 1974 (age 44) |
| Birth Place: | Jamaica |
| Residence: | Calgary |
A two-time Olympic medallist, Lascelles competed in his fourth Olympics in Sochi with Team Rush (third while representing Canada).
Lascelles has had a great deal of success with a number of Canadian pilots. He helped push Lyndon Rush's Canada 1 four-man sled to a bronze medal at the 2010 Olympic Winter Games.
Lascelles may have had one of the best feel-good stories of the 2006 Winter Games where he made his Olympic debut for Canada. Two weeks before heading to Torino, Lascelles, from Jamaica, received his citizenship and was able to slide with Pierre Lueders where they went on to win an Olympic silver medal in two-man bobsleigh. Lascelles helped Pierre and Lyndon win multiple World Cup medals, World Championship medals along with their Olympic triumphs at the 2006 and 2010 Games.
Considered one of the most powerful brakemen in the sport, Lascelles moved to Canada permanently in 2002 and was a member of the Jamaican Bobsleigh Team from 1999 to 2004. He set a start record for Jamaica of 4.78 seconds at the 2002 Olympic Winter Games in Salt Lake City.
Career Highlights
2018 - World Cup, St. Moritz, SUI: 3 (4-man)
2017 - World Cup, Park City, USA: 2 (4-man)
2017 – World Championships, Konigssee, GER: 6 (4-man)
2017 – World Cup, Pyeongchang, KOR: 4 (2-man)
2016 – World Cup, Lake Placid, USA: 3 (4-man), 3 (2-man)
2016 – World Cup, Whistler, CAN: 6 (4-man)
2016 – World Championships, Igls, AUT: 12 (4-man), 6 (2-man)
2016 – World Cup, Whistler, CAN: 1 (2-man), 5 (2-man)
2014 – Olympic Winter Games, Sochi, RUS: 9 (2-man), 9 (4-man)
2014 – World Cup, Konigssee, GER: 3 (4-man), 3 (2-man)
2014 – World Cup, St. Moritz, SUI: 4 (2-man)
2012 – World Cup, Whistler, CAN: 2 (2-man)
2010 – Olympic Winter Games, Whistler, CAN: 3 (4-man)
2006 – Olympic Winter Games, Torino, ITA: 2 (2-man)
2006 – Olympic Winter Games, Torino, ITA: 4 (4-man)
2007 – World Championships, St. Moritz, SUI: 2 (4-man)
2005 – World Championships, Calgary: 1 (2-man)
2005 – World Championships, Calgary 3 (4-man)
2007 – World Cup, Lake Placid, USA: 1 (2-man)
2007 – World Cup, Igls, AUT (2-man): 1
2006 – World Cup, Königssee, GER (2-man): 1
2006 – World Cup, Königssee, GER (4-man): 1
2002 – Olympic Winter Games: push start record (Jamaica)
Olympic Winter Games Results
2014 – Olympic Winter Games, Sochi, RUS: 9 (4-man), 9 (2-man)
2010 – Olympic Winter Games, Whistler, CAN: 3 (4-man), 15 (2-man)
2006 – Olympic Winter Games, Torino, ITA: 2 (2-man)
World Championship Results
2017 – World Championships, Konigssee, GER: 6 (4-man)
2016 – World Championships, Igls, AUT: 12 (4-man), 6 (2-man)
2015 – World Championships, Winterberg, GER: 8 (4-man), 21 (2-man)
2013 – World Championships, St. Mortiz, SUI: 15 (4-man), 6 (2-man)
2009 – World Championships, Lake Placid, USA: 12 (4-man), 7 (2-man)
2007 – World Championships, St. Moritz, SUI: 2 (4-man)
World Cup Results
2018 - World Cup, St. Moritz, SUI: 3 (4-man)
2017 - World Cup, Winterberg, GER: 5 (2-man)
2017 – World Cup, Whistler, CAN: 7 (2-Man)
2017 - World Cup, Park City, USA: 2 (4-man)
2017 – World Cup, Pyeongchang, KOR: 4 (2-man)
2016 – World Cup, Lake Placid, USA: 3 (4-man), 3 (2-man)
2016 – World Cup, Whistler, CAN: 6 (4-man)
2016 – World Cup, Whistler, CAN: 1 (2-man), 5 (2-man)
2014 – World Cup, Lake Placid, USA: 7 (2-man)
2013 – World Cup, Calgary, CAN: 8 (2-man), 6 (4-man)
2013 – World Cup, Park City, USA: 6 (2-man), 11 (4-man)
2014 – World Cup, Winterberg, GER: 8 (4-man), 9 (4-man)
2014 – World Cup, St. Moritz, SUI: 4 (2-man), 9 (4-man)
2014 – World Cup, Igls, AUT: 12 (2-man), 13 (4-man)
2014 – World Cup, Konigssee, GER: 3 (2-man), 3 (4-man)
2012 – World Cup, Lake Placid, USA: 6 (2-man)
2012 – World Cup, Park City, USA: 20 (2-man)
2012 – World Cup, Whistler, CAN: 2 (2-man)
2012 – World Cup, Whistler, CAN: 8 (4-man)
2013 – World Cup, Altenberg, GER: 4 (2-man), 6 (4-man)
2013 – World Cup, Konigssee, GER: 10 (2-man), 9 (4-man)
2013 – World Cup, Igls, AUT: 6 (2-man), 10 (4-man)
2013 – World Cup, Sochi, RUS: 6 (2-man)
2009 – World Cup, Cesana, ITA: 3 (4-man)
2009 – World Cup, Altenberg, GER: 5 (2-man), 4 (4-man)
2010 – World Cup, Konigssee, GER: 5 (2-man), 10 (4-man)
2010 – World Cup, St. Moritz, SUI: 1 (2-man)
2010 – World Cup, Igls, AUT: 10 (2-man), 7 (4-man)
2009 – World Cup, Whistler, CAN: 4 (2-man)
2007 – World Cup, Calgary, CAN: 3 (4-man)
2007 – World Cup, Park City, USA: 5 (2-man), 3 (4-man)
2007 – World Cup, Lake Placid, USA: 1 (2-man), 3 (4-man)
2008 – World Cup, Cesana, ITA: 8 (4-man)
2008 – World Cup, St. Moritz, SUI: 3 (2-man)
2008 – World Cup, Königssee, GER: 3 (2-man), 6 (4-man)