Jesse Lumsden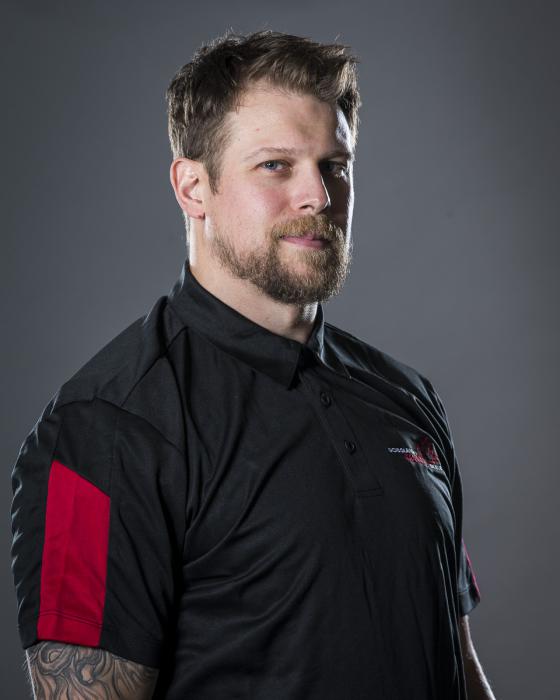 The son of former CFL Hall-of-Fame fullback, Neil Lumsden, Jesse had a standout football career at McMaster University where he won the Hec Crighton Trophy in 2004, and was invited to the East-West Shrine Game.
Jesse was signed as an undrafted free agent by the Seattle Seahawks in 2005, but was released shortly thereafter. Selected sixth overall by the Hamilton Tiger Cats in the 2005 CFL Canadian College Draft after his four-year standout career at McMaster, Lumsden accumulated 1,797 yards on 285 carries and nine touchdowns, along with 49 receptions and 630 yards for two touchdowns over four years as a Ti-Cat.
The Burlington, Ont. native signed a contract with the Edmonton Eskimos in 2009 where he started the first game of the season against the Winnipeg Blue Bombers, carrying the ball twice for five yards and catching three receptions for 20 yards before dislocating his shoulder, forcing him to have season-ending shoulder surgery.
Meanwhile, Jesse was recruited during the football off-season to compete with Pierre Lueders in the Canada 1 sled at the 2010 Olympic Winter Games on home ice in Vancouver-Whistler. All athletes dream of representing their country at the international level with the Olympics being the pinnacle of all competitions. When asked to test for the Canadian Bobsleigh program in the spring of 2009 Jesse jumped all over it. Determined and focused, Jesse rehabbed from injury in time to compete for Canada where he finished fifth in both the two- and four-man events.
Following the Games, Jesse signed with the Calgary Stampeders in September 2010 where he committed to playing whatever role that was asked of him. He was the leading rusher in his second game where he scored a touchdown in his final CFL carry before suffering a season-ending knee injury. Jesse won the CFL Player of the Week Award six times in his career and Player of the Month award once. He was Hamilton's nominee for Outstanding Rookie Award in 2005.
Officially retired from CFL football in June 2011, Jesse pushed Canada's two-man bobsleigh, piloted by Chris Spring, to the Olympic Winter Games in Sochi 2014. He teamed up with Justin Kripps for the four-man Olympic race.
Jesse has forged a strong partnership with Kripps, pushing the top Canadian sled to a silver medal at the World Championship two-man race last year in Konigssee, Germany. It was the second World Championship medal for Jesse. He also teamed up with Lyndon Rush to win the silver medal at the 2012 World Championships and the overall World Cup two-man title in 2013.
Career Highlights
2018 - World Cup, Altenberg, GER: 4 (4-man)
2017 - World Cup, Igls, AUT: 2 (2-man), 2 (4-man)
2017 – World Cup, Winterberg, GER: 4 (4-man)
2017 – World Cup, Whistler, CAN: 4 (4-man)
2017 – World Cup, Park City, USA: 3 (4-man)
2017 – World Cup, Lake Placid, USA: 4 (2-man), 5 (2-man)
2017 – World Championships, Konigssee, GER: 2 (2-man), 6 (4-man)
2016 – World Cup, Lake Placid, USA: 2 (2-man)
2016 – World Cup, Whistler, CAN: 5 (4-man), 4 (2-man)
2014 – Olympic Winter Games, Sochi, RUS: 7 (2-man), 30 (4-man)
2010 – Olympic Winter Games, Whistler, CAN: 5 (4-man), 5 (2-man)
2014 – World Cup, St. Moritz, SUI: 4 (4-man)
2013 – World Cup, Lake Placid, USA: 4 (4-man)
2013 – World Cup, Calgary, CAN: 3 (2-man), 4 (4-man)
Won the 2013 Overall World Cup Two-Man Title with Lyndon Rush
2013 – World Cup, Winterberg, GER: 3 (2-man)
2013 – World Cup, La Plagne, FRA: 1 (2-man)
2013 – World Cup, Konigssee, GER: 1 (2-man)
2013 – World Cup, Igls, AUT: 2 (2-man)
2012 – World Championships, Lake Placid, USA: 2 (2-man)
2012 – World Cup, Whistler, CAN: 1 (2-man)
2012 – World Cup, Whistler, CAN: 3 (4-man)
2012 – World Cup, Konigssee, GER: 2 (2-man)
Olympic Winter Games Results
2014 – Olympic Winter Games, Sochi, RUS: 7 (2-man), 29 (4-man)
2010 – Olympic Winter Games, Whistler, CAN: 5 (4-man), 5 (2-man)
World Championship Results
2017 – World Championships, Konigssee, GER: 6 (4-man), 2 (2-man),
2013 – World Championships, St. Moritz, SUI: 15 (4-man), 8 (2-man)
2012 – World Championships, Lake Placid, USA: 7 (4-man), 2 (2-man)
World Cup Results
2018 - World Cup, Altenberg, GER: 4 (4-man)
2017 - World Cup, Igls, AUT: 2 (2-man), 2 (4-man)
2017 – World Cup, Winterberg, GER: 4 (4-man)
2017 – World Cup, Whistler, CAN: 4 (4-man)
2017 – World Cup, Park City, USA: 3 (4-man)
2017 – World Cup, Lake Placid, USA: 4 (2-man), 5 (2-man)
2017 – World Cup, Pyeongchang, KOR: 9 (4-man), 8 (2-man)
2017 – World Cup, Igls, AUT: 7 (4-man), 5 (2-man)
2017 – World Cup, Winterberg, GER: 9 (4-man), 18 (2-man)
2016 – World Cup, Lake Placid, USA: 9 (4-man), 2 (2-man)
2016 – World Cup, Whistler, CAN: 5 (4-man), 4 (2-man)
2013 – World Cup, Calgary, CAN: 3 (2-man), 4 (4-man)
2013 – World Cup, Park City, USA: 12 (2-man), 7 (4-man)
2013 – World Cup, Lake Placid, USA: 6 (2-man), 4 (4-man)
2014 – World Cup, Winterberg, GER: 9 (2-man), 5 (4-man), 7 (4-man)
2014 – World Cup, St. Moritz, SUI: 6 (2-man), 4 (4-man)
2014 – World Cup, Igls, AUT: 9 (2-man), 6 (4-man)
2014 – World Cup, Konigssee, GER: 8 (2-man), 12 (4-man)
2014 – Olympic Winter Games, Sochi, RUS: 7 (2-man), 30 (4-man)
2012 – World Cup, Lake Placid, USA: 7 (2-man)
2012 – World Cup, Park City, USA: 12 (4-man)
2012 – World Cup, Whistler, CAN: 5 (2-man), 8 (4-man)
2013 – World Cup, Winterberg, GER: 3 (2-man), 13 (4-man)
2013 – World Cup, La Plagne, FRA: 1 (2-man)
2013 – World Cup, Altenberg, GER: 6 (4-man)
2013 – World Cup, Konigssee, GER: 1 (2-man), 9 (4-man)
2013 – World Cup, Igls, AUT: 2 (2-man), 10 (4-man)
2013 – World Cup, Sochi, RUS: 4 (2-man)
2011 – World Cup, Igls, AUT: 6 (2-man)
2011 – World Cup, Winterberg, GER: 6 (2-man)
2012 – World Cup, Konigssee, GER: 2 (2-man), 8 (4-man)
2012 – World Cup, St. Moritz, SUI: 6 (2-man), 7 (4-man)
2012 – World Cup, Whistler, CAN: 1 (2-man), 3 (4-man)
2012 – World Cup, Calgary, CAN: 4 (2-man), 5 (4-man)
2010 – World Cup, Igls, AUT: 8 (2-man)
2010 – World Cup, St. Moritz, SUI: 9 (2-man), 6 (4-man)
2010 – World Cup, Konigssee, GER: 8 (2-man), 9 (4-man)
2009 – World Cup, Cesana, ITA: 10 (4-man)