Derek Plug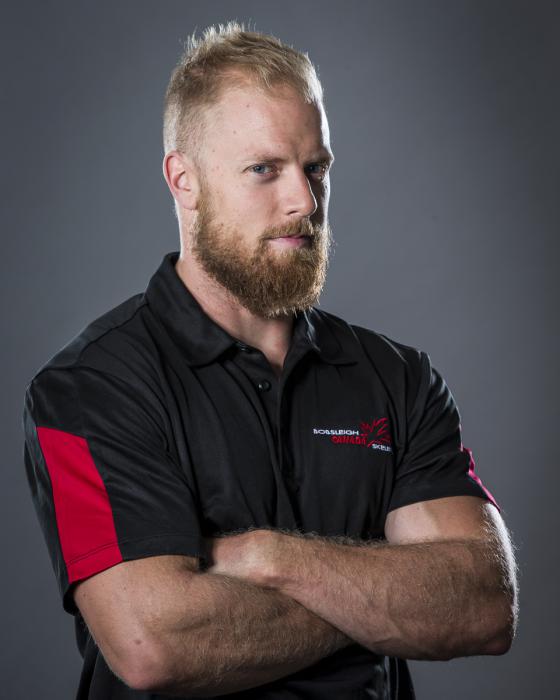 | | |
| --- | --- |
| Sport: | Bobsleigh |
| Position: | Brakeman |
| Height: | 183cm |
| Weight: | 102kg |
| Birth Date: | Jan. 25, 1989 (age 30) |
| Birth Place: | Calgary |
| Residence: | Calgary |
Derek got his start in bobsleigh after receiving an invitation to fore-run an America's Cup race in 2008. After competing on the Alberta Bobsleigh Association Cup races for one year, he made the national development team in 2009. Continuing his progression through the sport onto the America's Cup circuit during the 2010-11 season, Derek and his pilot Chris Spring finished first overall which earned him a spot to compete for Canada at the 2011 World Championships. Derek returned to the national squad in 2014 after a two-year hiatus, and is now competing in his fourth full season on the World Cup.
Derek brings a strong athletic background to bobsleigh after competing in hockey for 15 years, three years of high school football and 14 years of competitive soccer.
When not on the track, Derek enjoys camping, playing Xbox, hitting dingers in his co-ed softball league, and 10-pin bowling. When he is finished his sporting career, Derek plans to return to school to complete his Bachelor of Science degree.
Career Highlights
2017 – World Cup, Park City, USA: 6 (4-man)
2016 – World Cup, Park City, USA: 10 (4-man), 4 (4-man)
2016 – World Cup, Lake Placid, USA: 3 (4-man)
2015 – World Championships, Winterberg, GER: 8 (4-man)
2012 – World Championships, Lake Placid, USA: 17 (2-man)
2012 – World Cup, Calgary, CAN: 8 (2-man)
2012 – World Cup, Calgary, CAN: 9 (4-man)
2011 – World Cup, La Plagne, FRA: 6 (2-man)
2011 – World Cup, La Plagne, FRA: 9 (4-man)
2011 – World Cup, Winterberg, GER: 9 (4-man)
2011 – Overall America's Cup Champion
2011 - World Championships, Konigssee, GER: 14 (4-man)
2011 – Canadian Selections, Calgary: 1 (2-man)
2011 – World Cup, La Plagne, FRA: 6 (2-man)
World Championship Results
2017 – World Championships, Konigssee, GER: 23 (4-man)
2016 – World Championships, Igls, AUT: 16 (4-man)
2015 – World Championships, Winterberg, GER: 8 (4-man), 18 (2-man)
2012 – World Championships, Lake Placid, USA: 17 (2-man)
2011 – World Championships, Konigssee, GER: 14 (4-man)
World Cup Results
2017 - World Cup, Altenberg, GER: 20 (4-man)
2017 - World Cup, Whistler, CAN: 11 (4-man)
2017 – World Cup, Park City, USA: 6 (4-man)
2017 – World Cup, Igls, AUT: 18 (2-man)
2017 – World Cup, St. Moritz, SUI: 17 (4-man), 19 (2-man)
2017 – World Cup, Winterberg, GER: 19 (4-man), 22 (2-man)
2016 – World Cup, Whistler, CAN: 11 (4-man), 14 (2-man)
2016 – World Cup, Konigssee, GER: 18 (4-man)
2016 – World Cup, St. Moritz, SUI: 11 (4-man)
2016 – World Cup, Park City, USA: 10 (4-man), 4 (4-man)
2016 – World Cup, Lake Placid, USA: 3 (4-man)
2015 – World Cup, Winterberg, GER: 11 (2-man)
2014 – World Cup, Lake Placid, USA: 10 (4-man)
2014 – World Cup, Calgary, CAN: 10 (4-man)
2015 – World Cup, Altenberg, GER: 10 (4-man), 16 (2-man)
2015 – World Cup, Konigssee, GER: 14 (4-man)
2015 – World Cup, St. Moritz, SUI: 16 (4-man)
2015 – World Cup, La Plagne, FRA: 12 (4-man)
2015 – World Cup, Igls, AUT: 13 (4-man)
2015 – World Cup, Sochi, RUS: 10 (4-man), 14 (2-man)
2012 – World Cup, Whistler, CAN: 12 (4-man)
2012 – World Cup, Calgary, CAN: 8 (2-man)
2012 – World Cup, Calgary, CAN: 9 (4-man)
2012 – World Championships, Lake Placid, USA: 17 (2-man)
2011 – World Cup, Igls, AUT: 10 (4-man)
2011 – World Cup, La Plagne, FRA: 6 (2-man)
2011 – World Cup, La Plagne, FRA: 9 (4-man)
2011 – World Cup, Winterberg, GER: 9 (2-man)
2011 – World Cup, Winterberg, GER: 10 (4-man)